Ridley Gallery
A Cultural, Educational Hub for the Region
Ridley Gallery complements and expands the educational environment of Sierra College and the community by featuring an exceptional range of arts programming.
The gallery exhibits high caliber work of leading regional, national, and international artists, as well as faculty artists, alumni, and students in seven shows throughout the academic year. Recurring annual exhibitions include the Hallberg Award Exhibition, the Holiday Show and Sale, and the Annual Juried Student Exhibition.
Located on the Rocklin campus of Sierra College, this 1000-square-foot gallery was dedicated in the spring of 1998. The gallery is named in memory of Robert Ridley, an art professor who long believed a college gallery would enrich the cultural experience and understanding of students through exposure to local and nationally recognized artists.
An advisory board and part-time director administer the Ridley Gallery and coordinate planning and exhibits. Student workers and Sierra College Patrons volunteers provide staffing during gallery hours.
Current Exhibit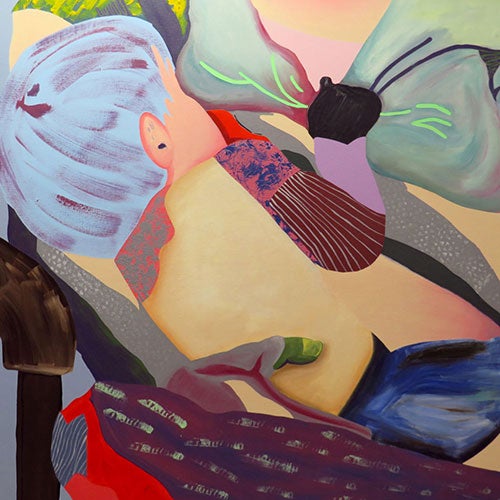 Jennifer Lugris: When Life Hands You Lemons, Jan. 30 – March 2
The paintings in this exhibition span the course of the past four years since Jennifer Lugris began teaching at Sierra college, during which time she also became a mother. The exhibit includes new works from her most recent project American Dream, which celebrates the achievements of Sacramento-based immigrants.
Jennifer Lugris is best known for her colorful, patterned, paintings that transform ordinary scenes to show the simple world as vibrant and astonishing. As a Korean, Uruguayan, first-generation American, Lugris describes her work as strangely, but also beautifully fitting puzzle pieces, like the ancestry that makes up who she is. Her award-winning work has been exhibited and published internationally. Solo exhibitions include Verge Center for the Arts, Richmond Art Center, Merced College, and Maturango Museum, among others. Her work is included in the permanent collection of the Art, Design & Architecture Museum in Santa Barbara, CA and as a mural installation for the Meta Open Arts artist-in-residence program in San Francisco, CA. She recently received a National Endowment for the Arts Seeding Creativity grant to write her first artist book American Dream, sharing success stories of Sacramento-based immigrants. She received a Master of Fine Arts from the University of California, Santa Barbara. She is Chair of the Sierra College Art Department and currently lives in Sacramento, CA with her family, dogs, and cats.
Join us for this uplifting show that reminds us that there is beauty in every moment, even the difficult ones.
Opening Reception: Thursday, Feb, 9, 3:30 – 5:30 pm
Gallery Hours: 11 am – 6 pm, Monday – Thursday
Get In Touch
Rocklin
Fall/Spring: M-Th, 11 am – 6 pm