Ridley Gallery
A Cultural, Educational Hub for the Region
Ridley Gallery complements and expands the educational environment of Sierra College and the community by featuring an exceptional range of arts programming.
The gallery exhibits high caliber work of leading regional, national, and international artists, as well as faculty artists, alumni, and students in seven shows throughout the academic year. Recurring annual exhibitions include the Hallberg Award Exhibition, the Holiday Show and Sale, and the Annual Juried Student Exhibition.
Located on the Rocklin campus of Sierra College, this 1000-square-foot gallery was dedicated in the spring of 1998. The gallery is named in memory of Robert Ridley, an art professor who long believed a college gallery would enrich the cultural experience and understanding of students through exposure to local and nationally recognized artists.
An advisory board and part-time director administer the Ridley Gallery and coordinate planning and exhibits. Student workers and Sierra College Patrons volunteers provide staffing during gallery hours.
Current Exhibit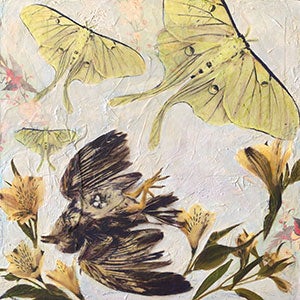 Visual Perspectives: Sierra College Photo Department Art Show, March 13 – April 13
The Ridley Gallery is proud to present Visual Perspectives: Sierra College Photo Department Art Show.
It all starts with light.
When most people think about photography, they think about cameras, but photography is really a way of seeing. It's about the person behind the camera – or not using a camera at all – capturing an image with light.
This exhibition represents the faculty and staff of the Sierra College Photography Department and demonstrates their diverse approaches to image making. Each artist has taken their own path to get here. Some have been commercial photographers, others fine artists. Some use traditional processes, while others explore alternatives or a combination of both. Each individual has developed their own unique point of view and expression through photography.
Up until the Spring of 2020, Sierra's Photo Department, like most, only met at the start of Fall and Spring semesters. When everything went online, the department began to meet weekly via Zoom to help and support one another. What resulted was a community of support and encouragement which provides a sense of belonging and teamwork. Through bringing their varying styles and viewpoints and sharing in a supportive space, each individual became better.
This collection of imagery represents how the Photo Department works together and collaborates. Each grouping of work interacts with the next, one theme flows into another. No matter how the image was created, it carries a common thread of not only being made with light but looking at the world as a place where meaning and story is just around the corner, waiting to be discovered.
Join us for this exhibition of the diverse practices of the faculty and stall in the Sierra College Photography Department.
Opening Reception: Thursday, March 16, 3:30 – 5:30pm
Gallery Hours: Monday – Thursday, 11 am – 6 pm
Get in Touch
Rocklin
Fall/Spring: M-Th, 11 am – 6 pm